In meiner künstlerischen Entwicklung habe ich einen fotografischen Hintergrund. Meine fotografische Praxis besteht daraus, dass ich in einer natürlichen unveränderten Landschaft die Stillleben finde. Zu dem Prozess gehört, dass ich eine Situation so lange beobachte, bis sich ein Bild aus dem Vorgefundenen zusammenfügt. Dabei hilft mir die Intuition zu verstehen, wann das richtige Bild da ist.
Dieser Ansatz beeinflusst meine weitere künstlerische Entwicklung. Seit einigen Jahren arbeite ich an dreidimensionalen Objekten, Zeichnungen und Audio-Stillleben.
So wie ich das richtige Bild in der Fotografie suche, häkle an meinen Objekten aus Kupferdraht so lange, bis sich die richtige Komposition intuitiv zusammenfügt. Während des Häkelns versuche ich nach Möglichkeit die Kontrolle aufzugeben, um die entstehende Formen analysieren zu können. Es ähnelt der Analyse der Kontaktbögen bei der Fotografie und gibt mir einen Überblick.
Im Laufe der Zeit habe ich bemerkt, dass die Objekte unabsichtlich fossil-ähnliche Umrisse annehmen. Das liegt sicherlich an der Natur des Materials und an den Möglichkeiten, die es anbietet. Dies lässt mich aber auch an den Ursprung von Formen in der Natur denken. Meine Objekte werden nicht manuell verändert – die Form bleibt so, wie sie sich im Prozess bildet.
Das nächste Medium, mit dem ich die Intuition erforsche, sind die Zeichnungen, die ich als "Telefonzeichnungen" beschreibe. Es sind kleine DIN A5 Skizzen, die an das Thema der Objekte anknüpfen und hauptsächlich unbewusst entstehen, indem ich parallel zum Zeichnen anderen Beschäftigungen wie Zuhören oder Schauen nachgehe. Sie ähneln vom Ansatz den "Kritzeleien", die manche Menschen während eines Telefonats herstellen, und dadurch immer wieder dasselbe Thema unbewusst bearbeiten.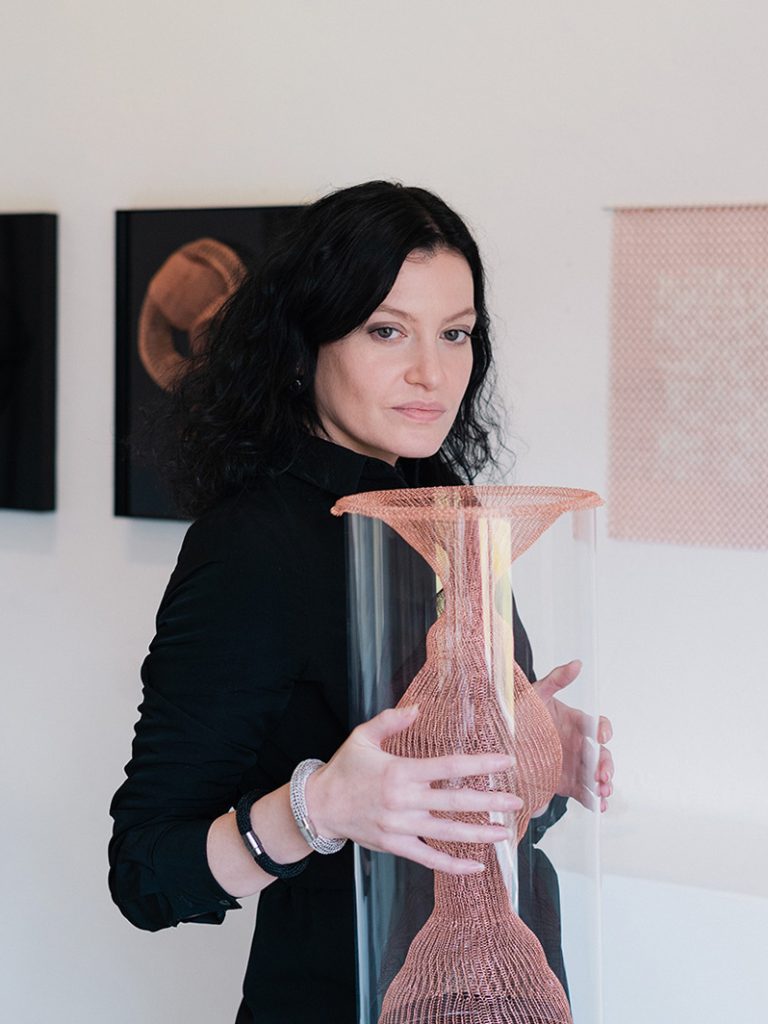 1981 – born in USSR as Volga German. 1997 – moves to Germany.
Currently lives in Munich.
.
.
2003 – 2007 Munich University of Applied Sciences, Photo-Design, Dipl.
2009 – 2015 Munich Academy of visual Arts, classes of Gunter Forg and Jean-Marc Bustamante, Dipl.
Collections & Museums
Kiyosato Museum of Photographic Arts (K'MoPA), JP
Frances Lehman Loeb Art Center, Poughkeepsie, New York, US
Bayerische Staatsgemäldesammlung / Pinakothek der Moderne, Munich, DE
Collection City Rosenheim, DE
Awards, Grants & Residencies
2022 – Residency at Le 108, Orléans, in cooperation with Künstlerhaus Schafhof and organisation La Miré, FR
2022 – Krumbacher Art Prize, DE
2022 – Residency at Nelimarkka Museum, Alajärvi, FIN
2022 – Residency at Salzamt Linz, in the guest studio of the Province of Upper Austria, The Art Collection, AT
2020 – Studio grant from the City of Munich, DE
2019 – VII. Ellwanger Art Prize, DE
2019 – 2nd place in the 13th Annual B&W Spider Awards, US
2014 – Young Portfolio Acquisitions, Kiyosato Museum of Photographic Arts, JP
2013 – Sponsorship Award from the City of Munich, DE
2011 – Musée de l'Elysée, production grant, CH
2011 – LfA Calender Prize, DE
Nominations (Selection)
2021 – 15th Arte Laguna Prize, IT
2019 – BLOOM Award by Warsteiner, DE
2011 – Lacoste Elysee Prize, top 10, CH
2010 – Katapult Award, top 10, DE
2010 – GetPublished Award, Haus der Fotografie Deichtorhallen Hamburg, top 10, DE
2008 – Canon-Profifoto Award, top 10, DE
2007 – Varta Digital Photo Award, top 10, DE
.
Exhibitions

2024
Alte Wache, City Hall Traunstein, Art Association Traunstein, DE
Gallery Artoxin, Munich, DE

2023
Fragmented world | Fokus Europa IV, Künstlerhaus Schafhof, Freising, DE
Mäander, Halle50, Munich, DE
Coexistence, GEDOK Gallery, Munich, DE
Kunst Aktuell, Art Association Rosenheim, DE
Herbarium, halle50, Munich, DE
Domagk Open Ateliers, Munich, DE
KULT Kunst, Central German History Museum Krumbach, DE
Changes, Political Academy Tutzing, DE
White, transparent, crystalline, preservative, Gallery of the City Traunstein, DE
More theater, Schlosspavillion Ismaning, DE
ArtMuc, MTC Locations, Munich, DE
Long Night of Museums, Domagk Open Studio, Munich, DE
Black and white, Central German History Museum Krumbach, DE
30. Aichach Art Prize Exhibition, DE

2022
Retour Amont, Le Bol, Le 108, Orléans, FR
Small Formats, Art Association Rosenheim, DE
Miniartextil, Mairie de Marcq-en-Barœul, FR
The 52nd Year Exhibition, The Town Hall Gallery Landshut, DE
Backgrounds, Wertingen Castle, DE
KunstKiosk, Tiny Art Piece Gallery, Konstanz, DE
Clean Up, Gallery of the City Traunstein, DE
Artexhibition Ingolstadt, BBK Ingolstadt, Exerzierhalle, DE
KULT Kunst, Central German History Museum Krumbach, DE
Miniartextil, Museo del Tessile, Busto Arsizio, IT
Playing with nature, Political Academy Tutzing, DE
Art Days Trudering, DE
OJA 2022, Kulturforum Klosterkirche, DE
Summer in the city, Art Association Landshut, DE
Miniartextil, Le Beffroi de Montrouge, Paris, FR
Picture Market, BBK Ingolstadt, City Gallery Harderbastei, Ingolstadt, DE

2021
Small Formats, Art Association Rosenheim, DE
What is feminine?, BBK Ingolstadt, DE
Death is a master from Ulm, Kunstpool Gallery, Ulm, DE
28th Aichach Artprize Exhibition, Aichach, DE
Collected Conditions, GEDOK Gallery, Munich, DE
The 50th Annual Exhibition, The Town Hall Gallery Landshut, DE
KULT Kunst, Krumbach Artprize Exhibition, Krumbach, DE
Miniartextil, Pinacoteca Civica, Como, IT
The future is present – re you ready?, Political Academy Tutzing, DE
The Annual Art Exbition, Ganserhouse Gallery, Wasserburg, DE
An unwritten Novel, Art Association Landshut, DE

2020
Kunstverein Freising, Landratsamt Freising, DE
ArtMuc, Praterinsel, München, DE
Biennale Blau, Blaues Haus Diessen, DE
Blick Fang, Kunsthaus Kaufbeuren, DE
Kunst Aktuell, Kunstverein Rosenheim, DE
I might be staring at Infinity, YARAT Contemporary Art Space, Baku, AZ
PhotoZüruch, StageOne, Zürich, CH
Nur mit uns, Galerie der Künstler, BBK München, DE

2019
Objects of Desire, Halle50, München, DE
PhotoMuenchen, Praterinsel, München, DE
VII. Ellwanger Kunstausstellung, Schloß ob Ellwangen, DE
New kids on the block, Halle50, München, DE
Kunst Im Karree, München, DE
L'appartement 58, München, DE
Dolce Vita, Halle50, München, DE

2018
ARTiges, Kunstverein Ottobrunn, DE
Spurensuche³, Blaues Haus, Dießen am Ammersee, DE

2017
Finir en beauté, Galerie der Künstler, München, DE
Kunstmuseum Humboldschloss, Hettstedt, DE

2016
Artist-Atelier Weissenhaus, DE
The place is not important, 84 GHz, München, DE
Keep Your Eyes Peeled, AFF Galerie, Berlin, DE
The place is not important, Seidlvilla, München, DE

2015
Affordable art fair Hamburg, Galerie Nimmesgern Starnberg, DE
UNSEEN photo fair, Amsterdam, NL
Honey and Joy, Galerie Artsquare, München, DE
Es gibt kein dort, Goethe Institut München, DE
Ortswechsel, Kunstverein Freising, Altes Gefaengnis, DE
Young portfolio acquisitions 2014, K'MoPA, JP

2014
Überblendung, Aff Galerie, Europäischer Monat der Fotografie, Berlin, DE
Does size matter?, Gallery Sage Paris, FR
There is no better place, BüKÜ, F-STOP, 6. Festival für Fotografie Leipzig, DE

2013
Paris Photo, FR
Förderpreise 2013, Lothringer13, München, DE
Artist comes first, Festival international d´art de Toulouse, FR

2012
Underworld, Galerie 5,6, Munich, Germany
Nuit des images, Elysee Museum, Lausanne, CH
Paris Photo, Galerie SAGE Paris
Places we live, Gasteig, Jula Festival, Munich, DE

2011
Catched, EarlyBird, Munich, DE
A tale of three cities, Galerie SAGE Paris, FR
Place is not important, Galerie ASPEKT, Neustadt, DE
Neige, Galerie Baudoin Lebon, Paris, FR
Katapult Days, Frankfurt/Main, DE

2010
Collection hiemale, gallery Baudoin Lebon, Paris, FR
Photo+Art Book, Deichtorhallen Hamburg, DE
VI Warshaw Festival of Art Photography, Warsaw, PL

2009
Heimat auf Zeit, Galerie für christliche Kunst, Munich, DE
2. Kasseler Photobook Festival, Kassel, DE
Tumbani, groundfloor "Bayern Invest", Munich, DE

2008
Tumbani, Teehaus Tschajkowsky, Berlin, DE
Fotografika, Museum Literaturnoje Pridneprovje, Dnepropetrovsk, UA

2007
Train Stations, Goethe Institut, Calcutta (Kolkata), IN
Fotofinish, Munich University, Munich, DE
I imagined it in a different way, Seidlvilla, Munich, DE

2006
On the move, SARAI, Space for contemporary media, Delhi, IN
The own view, Technikzentrum FH Muenchen, Munich, DE

2005
I like when the light goes on, Giesinger Bahnhof, Munich, DE
54 Characters, Preview Festival, Moscow, RU
3rd Current Photo Festival, Moscow, RU
2nd Current Photo Festival, Saint-Petersburg, RU

2004
1st Current Photo Festival, Saint-Petersburg, RU
Publications
2020 – Kunst Aktuell, Kunstverein Rosenheim, catalog
2019 – VII. Ellwanger Kunstausstellung 2019, catalog
2019 – Fotoforum Magazine 2/2019, "Julia Smirnova"
2019 – Kunst im Karree 2019, catalog
2019 – Münchener Merkur Nr 172, "Treffpunkt für Künstler, Musiker und Philosophen"
2019 – B&W Spider Awards winners book Vol. I
2018 – Fotoforum Magazine 1/2018, "Aufnahmen in der Stadt"
2018 – "Artiges 2018", catalog
2018 – Ammersee Kurier Nr 82, "Spurensuche"
2018 – Ammersee Kurier Nr 83, "Spurensuche" in Dießen
2018 – Münchner Merkur 15.05,2018, In der Gesichtern Vorfreude und Angst
2018 – Sueddeutsche Zeitung Nr 108, 2018, Menschen im Wartezustand
2017 – ARTMUC catalog, Oct/2017
2017 – "Im Bilde" Magazin, "Finir en beauté", 3/2017
2017 – ARTMUC catalog, Mai/2017
2015 – FINK Magazine, "Auf der Suche nach dem eigenen Ich", 4/2015
2015 – Sueddeutsche Zeitung Nr 81, Landkreis Freising," Gewohntes neu sehen"
2015 – "Wochenende" Nr 89, Freising, 18.04.2015, "Die Kunstschau mit int.Flair"
2015 – Sueddeutsche Zeitung Nr 89, Landkreis Freising, "Junge Kunst"
2014 – KMOPA catalog, "Young Portfolio Acquisitions 2014"
2014 – Stadtanzeiger 30.10.2014, "Eindrucke der Großstadt"
2014 – Die Rheinpfalz Nr 253, Bilder der Großstadt"
2013 – UND Das Münchener Kunstjournal Nr 53, Förderungswürdig
2013 – "Förderpreise und Stipendien 2012/ 2013" Kulturreferat München
2012 – "Underworld", catalog, Gallery 5,6 Munich
2012 – "Heimat auf Zeit", catalog, gallery "Für christliche Kunst", Munich
2011 – PAGE Magazine, Katapult-Finalistin Julia Smirnova
2011 – Visual Independence Magazine,"Odessa"
2009 – MitOst Magazine Nr 21, Cover + pages 24-25